Fenix LD10 vs LD20 Reviews and Comparisons
Video:
Fenix LD10 & LD20
Manufacturer Specifications
LD10:
Cree XP-G LED (R5) with lifespan of 50,000 hours
• Two modes (6 types) of output, selected by turning the bezel (patented)
- Turbo Mode: 100 lumens (1h 48mins) -> Strobe
- General Mode: 3 lumens (70hrs) -> 13 lumens (11rs) -> 45 lumens (4hr 40min) -> SOS
• Digitally regulated output - maintains constant brightness
• Uses one 1.5V AA ( Alkaline, Ni-MH, Lithium ) batteries (not included)
• Dimensions
• Length: 100mm / 3.94in
• Diameter: 21.5mm / 0.85in
• Weight: 54grams / 1.9oz (excluding batteries)
• Made of durable aircraft-grade aluminum
• Premium Type III hard-anodized anti-abrasive finish
• Waterproof to IPX-8 Standard
• Toughened ultra-clear glass lens with anti-reflective coating
• Push-button tail cap switch
• Capable of standing up securely on a flat surface to serve as a candle
• Anti-roll, slip-resistant body design
LD20:
Utilizes a Premium (R5) Cree 7090 XP-G LED with a life of 50,000 hours
Two modes of output, selected by turning the bezel (patented)
General Mode: 5 lumens (100hrs) -> 30 lumens (15hrs) -> 81 lumens (5hrs 57min) -> SOS (81 lumens)
Turbo Mode: 180 lumens (2hrs 16min) -> Strobe (180 lumens)
Digitally Regulated for Constant Brightness
Uses two 1.5V AA ( Alkaline, NiMH, Lithium ) batteries (not included), inexpensive and widely available
150mm (L) x 21.5 mm (D)
Removable titanium-coated steel pocket clip
Made of T6 aircraft grade aluminum
Durable Type III hard anodized finish
56-gram (or 2.0 oz) weight (excluding batteries)
Waterproof to IPX-8 Standards
Toughened ultra clear glass lens with AR coating
Push-button tail cap switch
Capable of standing up securely on a flat surface to serve as a candle
It's been a long time since I have a member of the class of standard AA Fenix ​​lights checked. Here is a chance to see how to stack the new versions LD10/20 with XP-G R4 emitter is fitted to the earlier "torchbearer" of Fenix​​.
As it just so happens I have the earlier LD10/20 Q5 and all iterations of the original LxD (Q5, Q2, P4 and short-lived Rebel R100) to compare. Time for a
Since the lights use the same head and are effectively promoted in the same packaging, I'm on the LD20 for most of the product shots below (the LD10 looks the same, only shorter!) Concentration. Where the difference is important, I show both lights.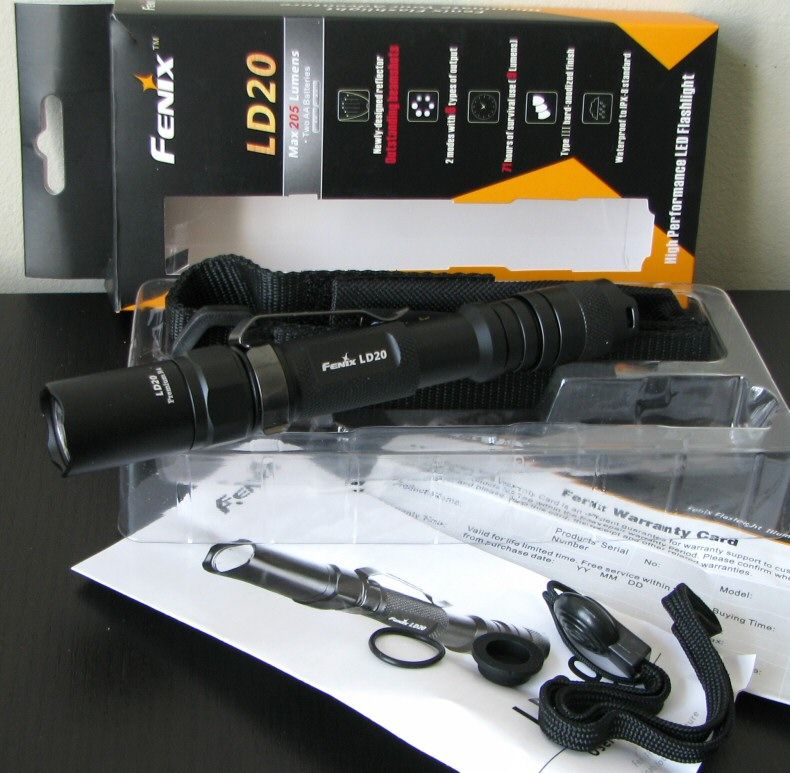 The LD10/20-R4s in the new standard Fenix ​​come packing. Included in the thin cardboard box with plastic insert is the light, along with a guide, warranty card, titanium-coated clip, spare o-rings, extra black trunk lid end cap, wrist strap and belt pouch with flap closure..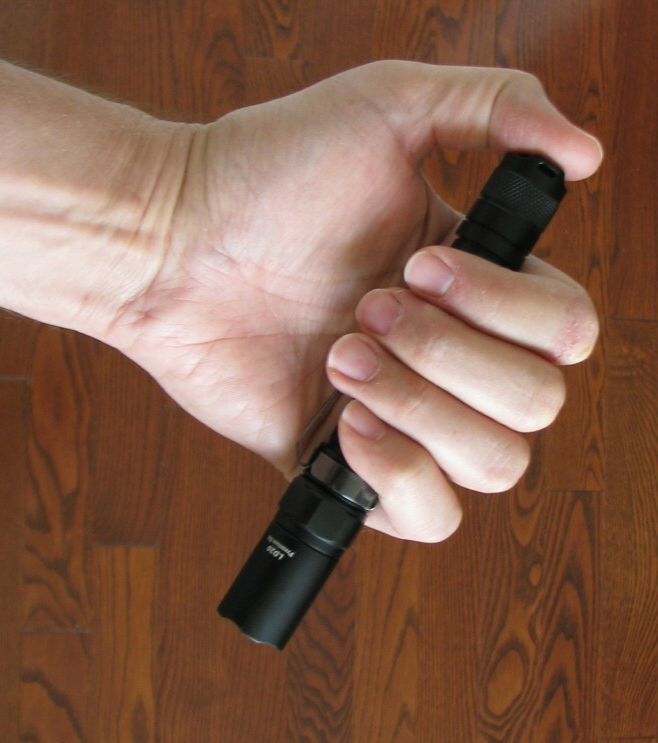 From left to right: Duracell alkaline battery, Fenix LD20-R4, Fenix L2D-Q5, 4Sevens Quark AA-2, NiteCore D20, EagleTac P20A2-II.
From left to right: Duracell alkaline battery, Fenix LD10-R4, Fenix LD10-Q5, Fenix L1D-Q5, 4Sevens Quark AA, 4Sevens Mini-AA, NiteCore D10.
Externally, the new LD10/20-R4s appear very similar to the original LD10/20 series lights. The most significant body change is that knurling has been added the body/battery tubes, and seems slightly more aggressive than what was previously used on the tailcaps. Identification labels are clear, although not as bright as the previous versions. Fit and finish are very good on my samples, with no flaws in the matte black type-III hard anodizing.
New with these lights is the removable Fenix stainless steel pocket clip (with black titanium coating), very similar to the TK12-R5 I reviewed previously.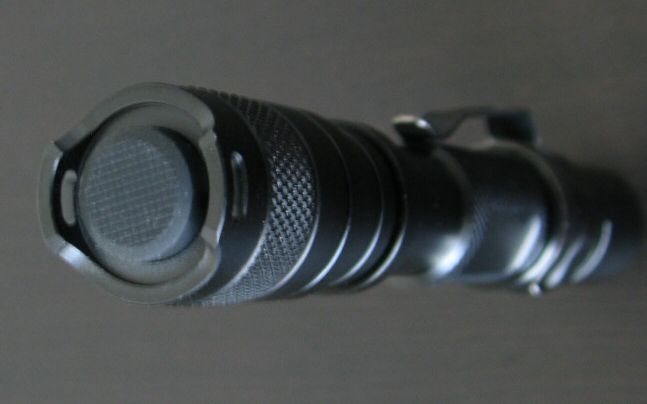 One thing that has changed is the screw threads – they are now square-cut on both the tail and head sections. While this is a nice feature in-and-of itself, it means the new versions are no longer backward-compatible with the parts from earlier generations. Up until these new lights, you could happily mix-and-match body and tailcap tubes from any previous Fenix version (i.e. LDx0-Q5 all the way down to the original LxD-P4). Now, you will need to stick with parts from this new generation.
The tailcap threads are still anodized for tailcap lock-out, like before. Both LD10 and LD20 lights can still tailstand in their default stock forms.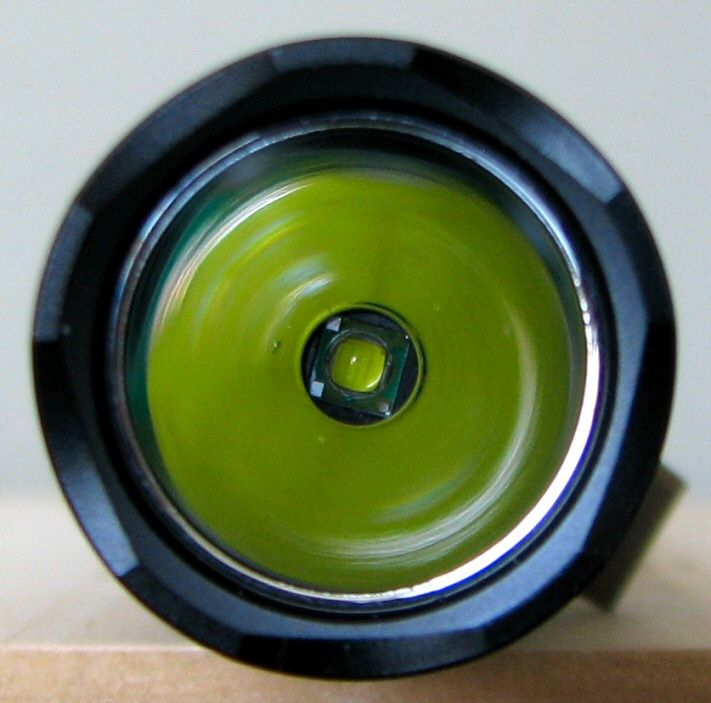 The New LD10/20 used The New Cree XR-E emitter (no tint'm told) with a cool white-R4-output tray. As mentioned KONNEN view, she DID mean Pr with Smooth reflector, but I IS OP textured faith also available * plus shipping costs. NOTE that the reflectors is not changeable by the user is offline. She need to buy a version or the other, so MAKE sure she ONLY verify that it IS important for you.
The nun and white wall hunting. Since both peers cave head, I'm only down with the LD20. All LEDs on SindhHigh On 2x Sanyo Eneloop NiMH, about 0.5 meters from one white wall.
Note: I accidentally put the wrong labels on the images below – they should all say LD20.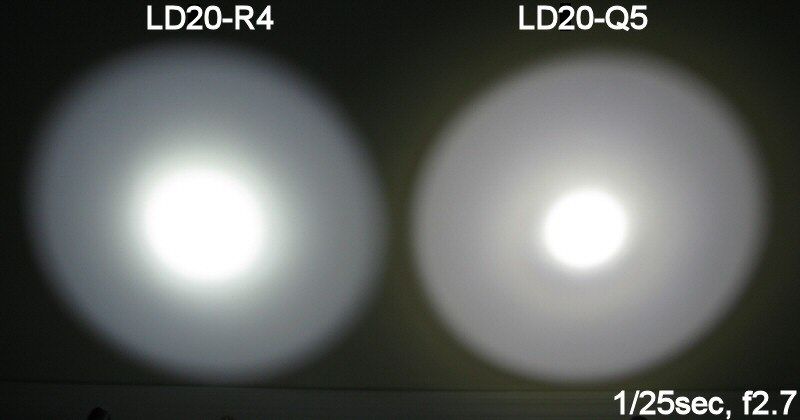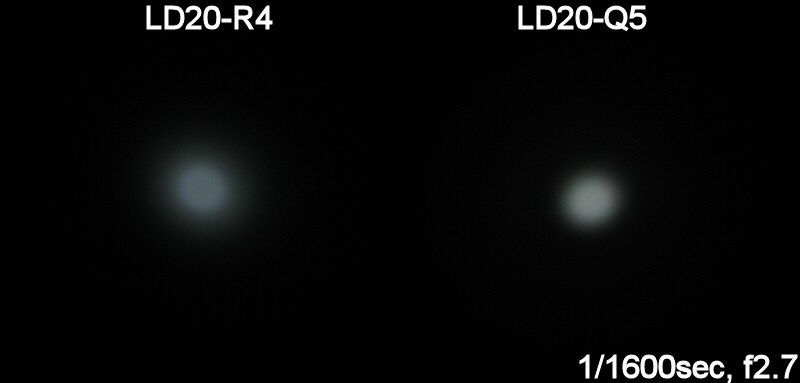 Even with the smooth reflector of the LD20-R4 is a very smooth beam with no obvious rings (thanks to the XP-G emitter) has. It also has a defined larger and smaller than the hotspot L1D-Q5, with reduced mid-light distribution.
As with many lights XP-G-based smooth with reflectors, there is some evidence of a slightly darker center to the hotspot (ie a weak donut pattern). This is only noticeable at a distance - and only if you are looking for it. It is not at all interfere in this case.
User interface
This has not changed from previous model LD10/20 lights. All standard Fenix ​​lights use a similar mechanism - pull your head for turbo modes, loosen the head slightly for general mode.
for general modes, ranging from the bezel a little loose, lo-click mode to activate. Soft-key to return to theMed, Hi, SOS in the sequence.
With the bezel fully tightened, resulting activation of Turbo. Soft button to advance a fast strobe.
When the light turns off within ~ 2 seconds, you will be the next mode (ie acts as a soft-press) forward. If youwait longer than that, you will return to the first output state (ie Lo or turbo, depending on the steady state).There are no long-term storage mode.
Strobe frequency was measured at a very fast 14Hz.
No PWM (Pulse-Width-Modulation)
Consistent with other Fenix lights, I was unable to detect any signs of PWM.
As the runtimes clearly indicate, lower output levels appear to be current-controlled.
Testing Method:
All my output numbers are relative for my home-made light box setup, a la Quickbeam's flashlightreviews.com method. You can directly compare all my relative output values from different reviews - i.e. an output value of "10" in one graph is the same as "10" in another. All runtimes are done under a cooling fan, except for the extended run Lo/Min modes (i.e. >12 hours) which are done without cooling.
Throw values are the square-root of lux measurements taken at 1 meter from the lens, using a light meter.
Throw/Output Summary Chart: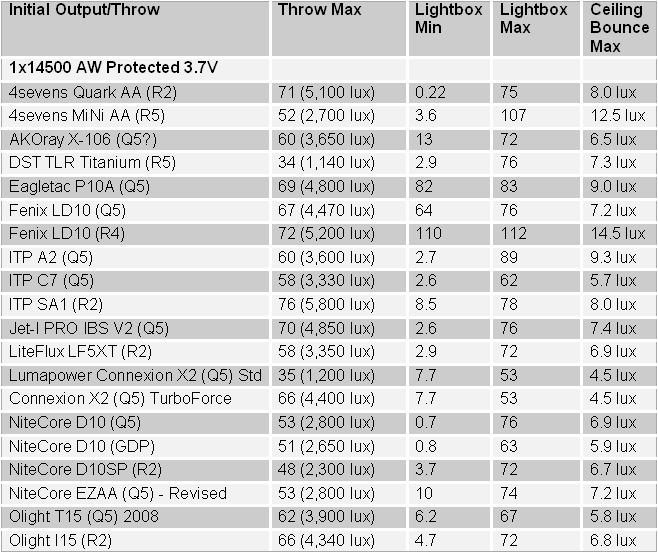 Ok, this is where things start to get interesting.
Turbo output of the LD10-R4 on standard batteries is remarkably high – higher than any other 1xAA light I've tested.
On previously models, Turbo wasn't noticeably brighter than Hi mode. At least initially, the LD10-R4 is almost as bright as the LD20-R4 on Turbo!
Note that the LD10-R4 still lacks defined initial output levels on 14500.
In other words, the light always comes on in max output direct drive, and regulation only kicks on once the light decays to the regulated output level (at which point the battery is almost exhausted anyway),
The LD20-R4 doesn't seem that much brighter than the earlier generations on Turbo.
Throw is reduced on these new XP-G R4 versions compared to the earlier XR-E Q5s, when matched for the same output level.
The Lo modes of LD10/20-R4s are higher than my first generation LD10/20-Q5s.
In fact, they are closer to my earlier L1D/L2D-Q5s.
Output/Runtime Comparison:
To start, how do these new XP-G R4 Fenix lights compare with earlier XR-E generations?
Now that's interesting! For the first time in the history of the L1D/LD10 lineage, the 1xAA light is now much brighter on Turbo than it is on Hi. I've shown the LD10-R4 on Hi to allow you to better compare to earlier lights … but that Turbo performance is very impressive. In fact, the LD10-R4 Turbo is pretty close in initial output to the LD20-R4 (see below).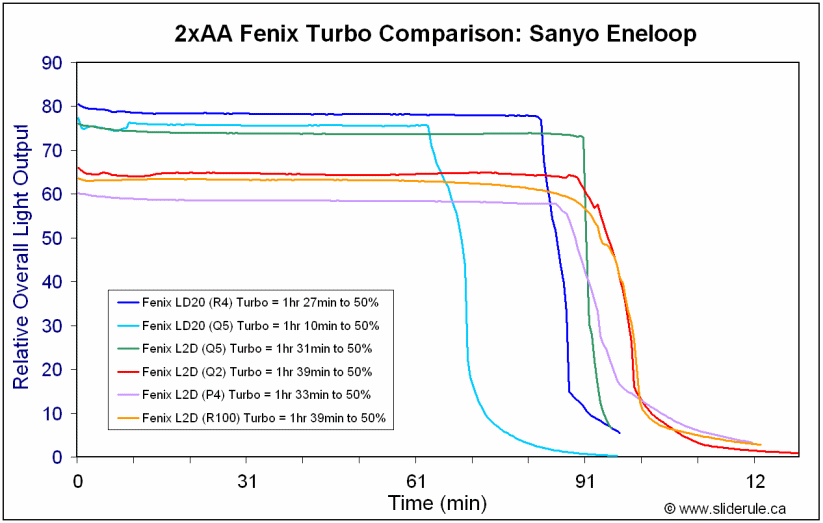 For the LD20-R4, the difference is pretty modest. Yes, there is a small increase in output, and runtime has improved over my LD20-Q5 model. But I suspect most people would have expected to see more of a bump in output here.
How do these new lights stack up to the competition?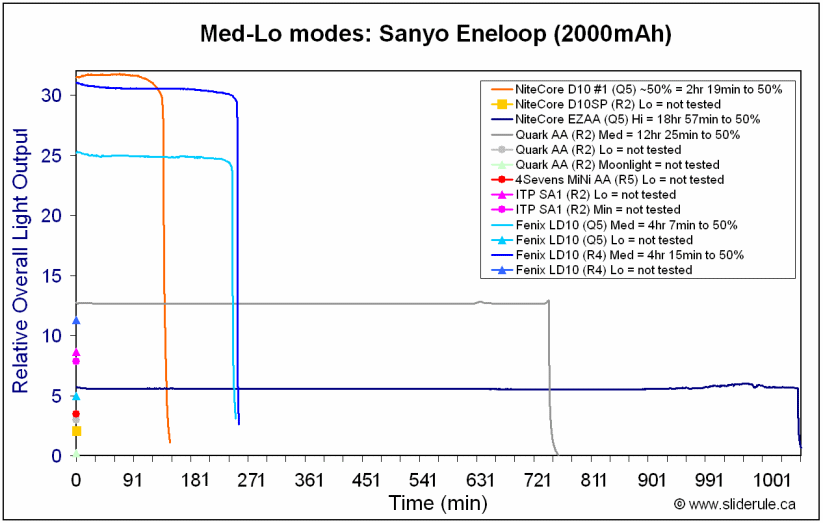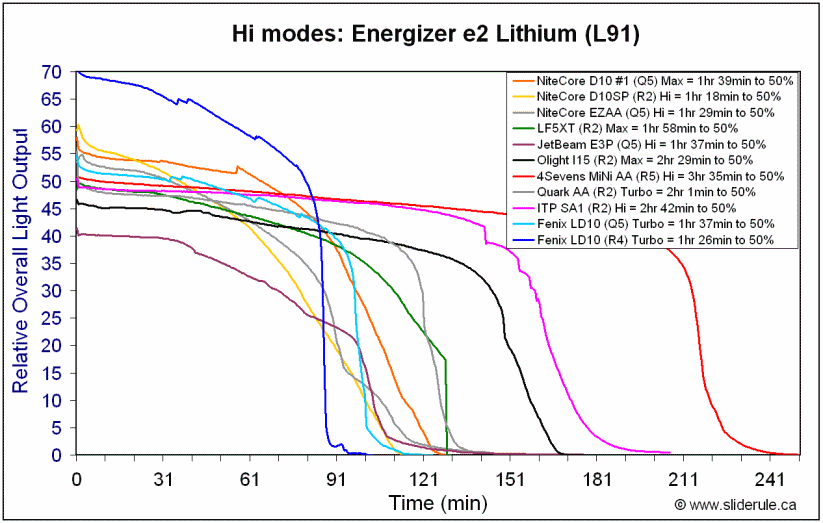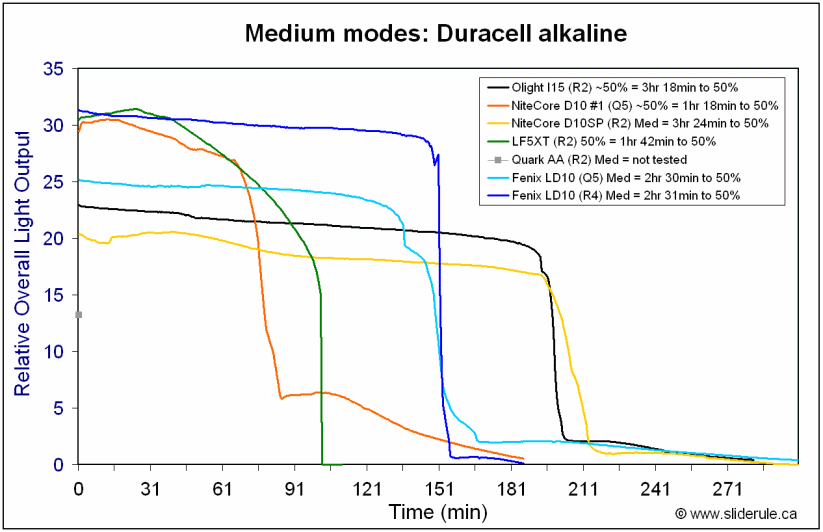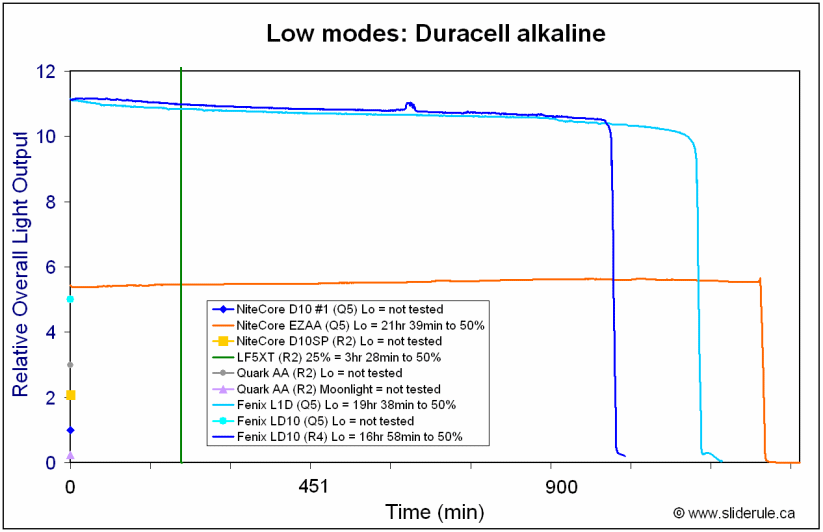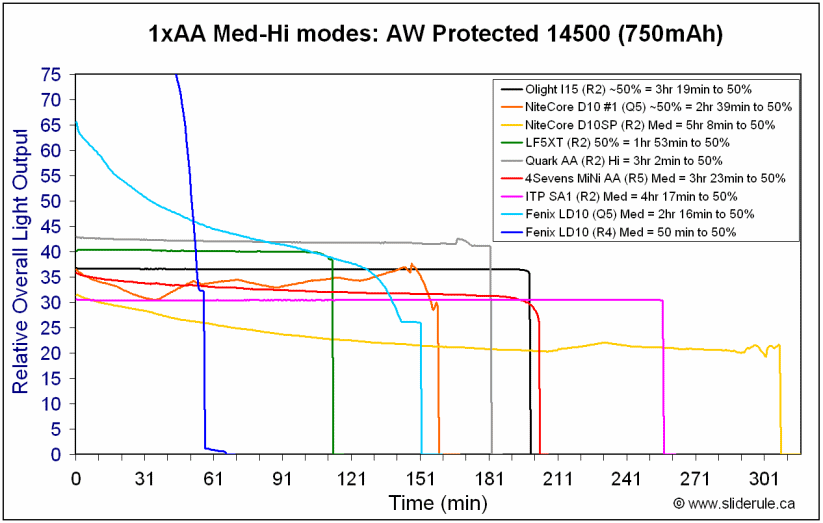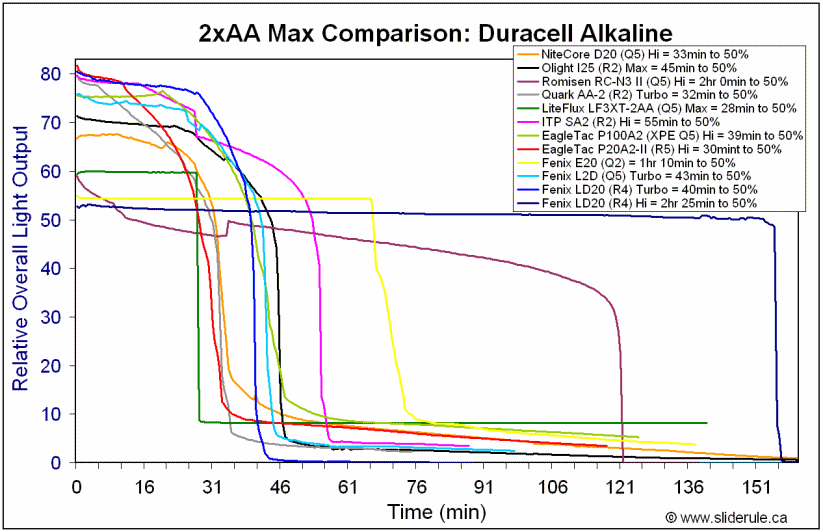 Ok, there are a lot of data, as above.
Simply put, the LD10-R4 blows the competition in terms of performance on standard cells (NiMH, alkaline, L91). This is an important starting point for the line, and I'm impressed that Fenix ​​to manage performance to get there.
The output of the turbo-LD20-R4 seems a bit lackluster in comparison - it is not so much brighter than my Q5 earlier versions (or 1xAA LD10-R4 for that matter). In this case it seems the 2xAA version of this light to be optimized at run time - as expected, at all levels of LD20-R4 beats the competition at run time. The Hi mode alkaline run is particularly impressive.
Possible Problems
It is a peculiarity in the circuit in the form 2xAA - you lose the Lo-Med-modes on 2xL91 lithium batteries initially (ie Lo and Med are the same as on the first hello). I remember to use something similar to happen to the lowest mode of the Olight T25, but in this case, both Lo and Med on LD20-R4 affected.
I suspect this has something to do with the Fenix ​​lights missing a buck circuit and the new XP-G R4 emitter with relatively lower Vf than the existing lamps do. As such, a voltage across the emitter's Vf will cause problems. Presumably, after running for a certain period, the voltage of your L91s will fall low enough to fall under the Vf of your emitter, and full multi-mode control by the boost circuit can be restored. But how long it will take is difficult to predict - it depends on the exact Vf of your sample.
Fortunately, this problem is limited to 2xL91 - rest assured, all modes work as expected on 1xL91 in the LD10-R4. But of course, 1x14500 a problem here - as with all previous versions of the LD10 is missing all the defined lower output modes (Lo-Med-Hi) to 3.7 V Li-ion. The light goes up instead of starting Direct-Drive at all levels, and only enters the Regulation, if the battery is nearly empty.
As with all XP-G light with smooth reflectors, there is a slight dark-center action of the hot spot (ie, a weak donut pattern of the hot spot). It is mild on my two samples, but you might want the OP reflector versions to test only in this case.
The Lo mode from my two samples is higher than in previous versions LD10/LD20-Q5. Basically, the Lo mode is comparable with the earlier versions L1D/L2D Q5. If you are looking for a real moonlight mode, you need to look elsewhere.
The waist bag seems kind of cheap, compared to previous Fenix ​​bag.
General observations
The line is one of the most venerable LD10/LD20 Fenix ​​in history - he is on his way back to the first multi-mode Fenix ​​lights that L1T/L2T. I think that will please most users, to see how it can be developed with the latest editions of XP-G R4 output.
One thing that really stands out for me is the greatly increased output of the LD10-R4 Turbo on standard batteries (eg alkaline, NiMH, L91). This is by far the brightest light 1xAA I've tested - first issue is in fact fairly close to the LD20 2xAA-R4.
In other words, the LD10-R4 on standard batteries is as bright as most 1xCR123A lights! No doubt about it - if you know anyone with as bright a light on standard batteries 1xAA may be impressed that you want, this is one to do it with.
By comparison, I fear, then the LD20-R4 be a little lackluster - turbo output is only slightly brighter than previous generations. But both regulation and life are top-of-the-line for this class of light (2xAA). And although I generally recommend not lye, the LD20-R4 probably one of the best lights you can run it in (ie look at the Hi-LD20-mode operation) could.
Basically, the LD20-R4 which one is if you want the best possible run-time on standard battery do in a regulated manner. What losing the mood of the battery Lo-Med initially 2xL91, this part of the flip-side to excellence (ie would not buck circuit, reducing the overall efficiency) is. In some ways it is similar to the continued inability of the LD10 to run on multi-mode 14500 - the circuit is not full support for the> ~ 3V battery source.
Build-wise, I like the extra knurling on the body and of good quality removable clip. Otherwise, not much has changed from earlier versions. One exception - the threads have to square a thicker kind of been improved. This means that older style tube / tailcaps no longer fit with the new heads - ". Fenix ​​Lego" You have to buy modern parts, you want to play
The beam pattern is quite good on my sample, especially when you consider that it has a smooth reflector with the XP-G are coupled emitters. I think you can also buy these with OP reflectors installed (Note: You can not change it later). The main difference with an OP reflector would probably throw and slightly reduced (ie spill smoother transition from one place) a corona around the hotspot to be larger.
At the end of the day, to further demonstrate Fenix, why the efficiency is king in these classes of lights - if you earn in the market for 1xAA/2xAA light, this being seriously considered. I just wish Fenix ​​would be a true "Moonlight" low power mode - it is one thing, this series is missing.
Personally, I do not imagine there is much to force you to your previous Q5 L2D/LD20s equipped for this R4 version (unless you run a real time are junky or knurling) to update. However, the much higher output of the turbo LD10-R4 is a real eye-opener.